I was started in a HAM-radio in 1959 on the club station UA2KAP (Chernjakhovsk city, Kaliningrad district). The first own callsign was UA2ACS and then UA2CS (since 1966).

Since 1974 as a UR2RGM (Tallinn, Estonia). During the Moscow's Olympic Games in 1980 from 1st of January to 03 of August has been used a special callsign RU2RGM.
The callsign ES1RF - since 1990. And starting from 2006 I using also callsign ES3RF,
but ES1RF is also valid.

I am a member of Estonian Radio Amateur Union (ERAU). National qualification class "A", CEPT License class "1".

ERAÜ is the only officially recognized amateur radio organization representing and uniting radio amateurs in Estonia. ERAÜ members can have actual impact on the development of amateur radio as a hobby in the country, its regulations and legislation in the field of communication etc. Hence, only membership guarantees a HAM in Estonia an actual participation in the hobby and a status of real and active radio amateur.

The prefix ES in Estonia was introduced since January 1st, 1929. On March 1st 1935 the Estonian Radio Amateurs' Union (ERAU) was officially registered by the Ministry of Internal Affairs as an organization uniting amateur radio activity of the country.
This fact marks the "official birth" of the organized amateur radio in Estonia. On January 1st 1938 ERAU became a member of IARU.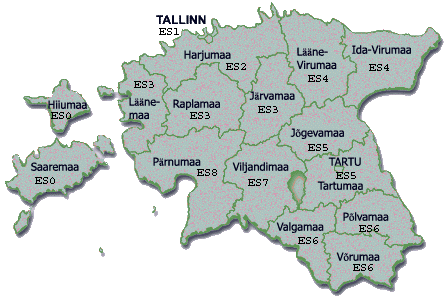 The territory of Estonia has divided on to 9 radio amateurs districts:
(ES0, ES1- ES8).The ERAU HQ using special callsigns ES9A, ES9C.
Much more useful information, including ES-Callbook, awards and CEPT in Estonia you can find on official Estonian Radio Amateur Union (ERAU)
My current QSL-cards front view.
Antenna farm.

My VHF-UHF position is situated in village Vilivere, Raplamaa, just 18 kilometers from my residence place in Tallinn. The QRA-locator of this place is KO29IF. The callsign I'm using there is ES3RF. On the picture above is my current antenna farm. From the left to the right:
Mast I: 8x19 el. full elevated for 432 MH + LNA. On the top 4x35 el. for 1296 Mhz (LNA)
and 145/435 Diamond X-400 vertical;
- Cushcraft R8 vertical for 40-10 m. bands;
Mast II: 5 el for 50 MHz and 7 el. for 70 Mhz;
Mast III: 4x18 el 2M18XXX for 144 MHz (LNA). Elevated up to +45 degrees.

More about my activity on HF-VHF-Satellites you can find on another places of my site.

Hope to meet you in the air!
73! de Gennadi (Gena) - ES1RF/ES3RF