The 4 METER BAND IN ESTONIA!!!
Starting from the 23 of December, 2007, Estonian amateurs can work on 4 meter band.
Power output for holders of A-class license is 1 KW.
Frequency, MHz
Mode
Usage
70.000-70.050
Beacons
70.050

70.300

Telegraphy (CW) & SSB

70.150 MS (Meteor) Calling
70.185 Crossband center of activity
70.200 CW/SSB Calling

It gives me new opportunity to discover this new band.
Although not many Europeans countries using this band, it is always interesting to get new VHF band!
Please, have a look on the band allocation plan, and you can understand, that is not possible
to get DXCC Award on that band. The band allocation picture is published by Bo, OZ2M on the site:
http://www.70mhz.org
International 70 MHz allocations
Published on 1 February 2012 by Bo OZ2M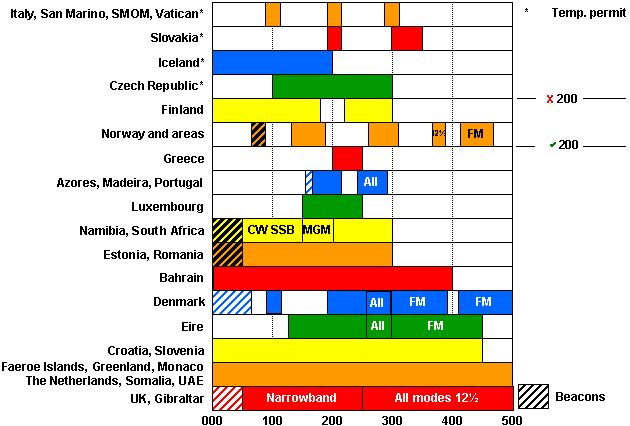 Look like to start on this band quickly is not so easy.
First of all I even did not know nothing about International 70 MHz allocation, how to
operate and what to expect from band, which is between well known 50 and 144 MHz...
And so on, and so on....
All answers I found on the great WEB resource http://www.70mhz.org

Another thing is the equipment.
Because practically no commercially manufactured RIG and amateurs must to build transverters
and power amplifiers.
But I was much lucky!
I have YAESU FT-847, which was modified for a proper job on 70 MHz band.
The modification was quiet easy. It was very well described by Mark, PA1O and it has been done
during 1 weekend. As a result, I've got 60 watt output on TX, but RX has not enough sensitivity.
So, friend of mine, Hellar, ES1II did installed 1 stage peamplifier (3SK121) inside FT-847.
Also I plan to build the transistor's PA. To get at least 100-150 watts and make "more easy life"
for transceiver's PA.
Antenna. After learning all materials on the site http://70mhz.org, I decided to try 5 element yagi
by Popa, YU7EF. It was also easy to build, because Popa was so kind and recalculated all elements
dimensions regarding to my materials.

I installed that antenna on the mast, below the group of 8 x 19 el. yagis for 432 MHz.

(picture made on 12.05.08)

Here is list of my completed initial (first time worked) QSOs on 70 mhz.
And here is table the "Firsts" on 70 MHz regarding to Estonia.
(Published on http://www.70mhz.org/firsts.htm), standing on 03-08-2012
| | | | | | | | | |
| --- | --- | --- | --- | --- | --- | --- | --- | --- |
| Country | DXCC | Home Callsign | DX Callsign | Date | UTC | Propagat | QSL | Notes |
| Aaland Islands | OH0 | ES3RF | OH5LID/0 | 2010-07-14 | 0711 | MS/T | | |
| Belgium | ON | ES3RF | ON4PS | 2009-11-24 | 2110 | MS | | |
| Croatia | 9A | ES3RF | 9A1Z | 2008-02-11 | 1640 | MS | | |
| Czech Republic | OK | ES3RF | OK1CO | 2008-02-28 | 1453 | MS | | |
| Denmark | OZ | ES3RF | OZ3ZW | 2008-02-08 | 1011 | MS | | |
| Eire | EI | ES1II/8 | EI3IO | 2008-05-25 | 1423 | Es | | |
| England | G | ES3RF | G4DEZ | 2008-02-08 | 1232 | MS | | |
| Estonia | ES | ES5AM | ES5QA | 2007-12-23 | 0701 | Tr | | |
| Faeroe Islands | OY | ES3RF | OY3JE | 2008-03-02 | 1414 | MS | | |
| Finland | OH | ES1CW | OH3UW | 2009-11-07 | 1554 | T | | |
| Germany | DL | ES3RF | DI2PM | 2008-02-08 | 1132 | MS | | |
| Greece | SV | ES3BR | SV2DCD | 2008-05-25 | 1130 | Es | | |
| Guernsey | GU | ES1CW | GU6EFB | 2010-05-27 | 1931 | Es | | |
| Isle of Man | GD | ES3RF | GD0TEP | 2008-02-14 | 2010 | MS | | |
| Italy | I | ES3RF | I3VWK | 2008-05-11 | 0426 | MS | | |
| Jersey | GJ | ES3RF | GJ4ISM/P | 2009-08-12 | 2055 | MS | | |
| Luxemburg | LX | ES3RF | LX1FX | 2008-02-29 | 1635 | MS | | |
| Netherlands | PA | ES2RF | PA2CHR | 2012-01-01 | 1716 | MS | | |
| Northern Ireland | GI | ES1II/8 | GI4KSO | 2008-05-24 | 1509 | Es | | |
| Norway | LA | ES3RF | LA4LN | 2009-11-14 | 2145 | MS | | |
| Poland | SP | ES3RF | SP2JYR | 2012-06-06 | 2000 | MS | | |
| Portugal | CT | ES3RF | CT1HZE | 2008-07-02 | 1034 | Es | | |
| Romania | YO | ES3RF | YO5PBG | 2011-06-10 | 16:10 | Es | | |
| San Marino | T7 | ES2JL | T70A | 2010-06-19 | 1634 | Es | | |
| Scotland | GM | ES3RF | GM4ISM | 2008-02-14 | 0558 | MS | | |
| Slovakia | OM | ES3BR | OM5KM | 2009-06-29 | 1636 | Es | | |
| Slovenia | S5 | ES3RF | S51DI | 2008-02-08 | 1503 | MS | | |
| Spain | EA | ES3RF | EA1YV | 2010-05-27 | 2056 | Es | | |
| Svalbard & Bear Isl. | JW | ES3RF | JW7QIA | 2010-07-02 | 1805 | AU-Es | | |
| Wales | GW | ES3RF | GW8ASD | 2008-02-11 | 1256 | MS | | |